MAI 2019


YET Magazine

Got featured at Yet magazine: https://yet-magazine.com/post/do-you-know-who-i-am?fbclid=IwAR04GGDBHOTI-w3m1w7OIpVIkexqgufntcpQWNTiQDTmz0naKwljAm1qKlw










Exhibition in Tolouse 23rd May at Château D'eau.

Currents Shift explores how photography and water are being critically reevaluated and influenced by the environmental, economical, cultural and social crisis of the present times.

Diogo Bento, Cihad Caner, Garrett Grove, Dries Lips, Jessica Wolfelsperger and Marie Lukasiewicz
Curated by Jon Uriarte

SEPTEMBER 2018
Organ Vida Festival in Zagreb
Exhibition at Organ Vida Festival with my work "Saga".

JULY 2018
Parallel Photo Platform Cycle 2
Very happy and excited to announce that I am under one of 29 photographers and 7 curators from all over the world, who got chosen to be part of Parallel Platform @parallel.photo.platform. I will produce a new work during one year and will exhibit in Zagreb in September at @organvida_festival and further on @formatfestival in Derby in 2019 and in Budapest with my new work! Stay tuned!
JUNE 2018

Honored to be part of the Athens Photo Festival 2018 withmy work "Saga" at Benaki Museum.
Opening 6th June in Athens.
MARCH 2018
Finalist and exhibition at Swiss Photo Award with
the works "Saga" and "Hide+Seek".

NOVEMBER 2017

HANT Magazine
Got published in the HANT Magazine with
my series "Saga".
GIVE & TAKE Exhibition
Save the date: Thursday 2nd November opening
at Kunstraum Bethanien Mariannenplatz in Berlin from
7pm on! I will show my new series "Saga".
OKTOBER 2017
analog magazine
Got published in the analog magazine with
my series "Hide + Seek".
SEPTEMBER 2017

KOMET Soirée graphique Nr°10 in Bern
Looking foward to being part with one unpublished picture of mine at KOMET Soirée graphique Nr°10. The exhibition night is on 8.9.2017 in Bern at the KOMET Agency. Save the date!
JULY 2017
Verzasca Foto Festival
Honoured to part of an Artist Residency in Verzasca Valley with a Photo Festival, where I will show the body of work
I created during the Residency.

Verzasca Foto Festival 31.8. – 3.9.2017 in Sonogno, Ticino.
Neue Galerie im Höhmannhaus Augsburg
With vfg Nachwuchsförderpreis and my work "Lonely Planet" in Augsburg. Duration of the Exhibition: July 14th – September 24th 2017












JUNE 2017

Kunstmagazin Artline
Little Portrait in the Art Mgazine Artline.












Athens Exhibition
28.6 – 1.7.2017 Exhibition in Athens at T.A.F. / The Art Foundation > metamatic:


MAY 2017
vfg Sicht
Exhibition 4th May in Zurich and so happy to see my picture on the the flyer from my series Family Portrait, a work from 2013, which I will exhibit there next to my newest work Hide + Seek and with other great photographers.

Beside that I am honoured to have a podium discussion with Kurt Caviezel and Reto Camenisch 16th May about Portrait Photography. Check Flyer infos.

DNACHT – Magazine for Photography,
Design and Subculture
I got published in "dienacht" Special Issue – Magazine for Photography, Design and Subculture. It will be release during our exhibition opening on the 5th of May in Berlin! 196 Pages, Swiss binding, 400 copies. Online available soon, stay tuned! (Cover: Linn Schröder)
Dont Forget Me Not Exhibition
Exhibition opening Friday, 5th May at Alte Feuerwache
in Friedrichshain Berlin with my work Hide + Seek.
APRIL 2017
Feldexperimente – Basler Fasnacht Exhibition
Exhibition opening 7th April in Basel Markthalle during the Biennale
It's The Real Thing – Basler Dokumentartage 2017. I got invited by Curator Benedikt Wyss to do a work about the tradtional Carneval of Basel called "Fasnacht".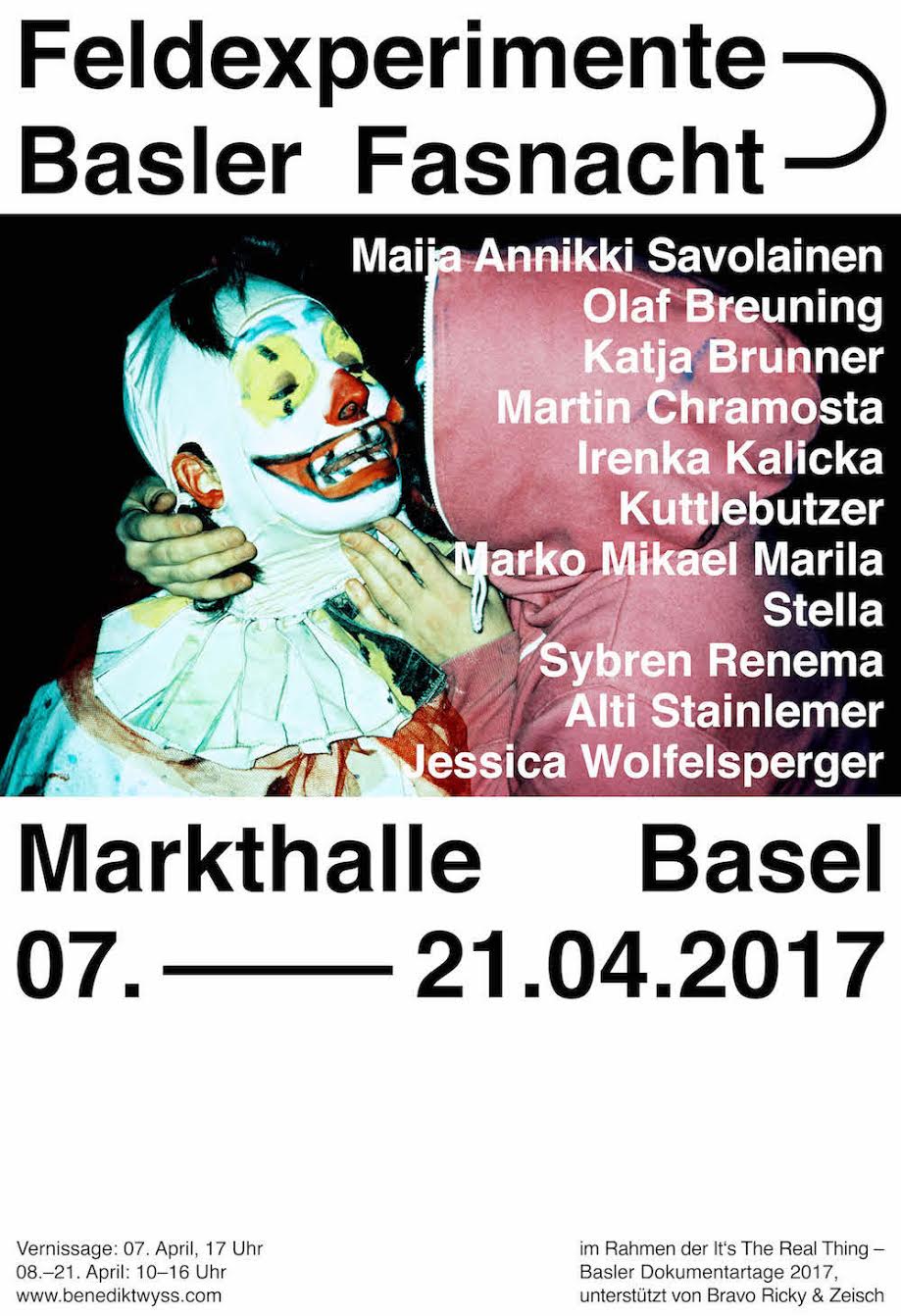 MARCH 2017

Swiss Photo Award Winner
Winner of the Swiss Photo Award 2017 in the Category Fine Art
with my series Lonely Planet.